"I'm a retired massage therapist who loves the stock market! I've been trading for about three years, up down and sideways. I have joined discord groups in the past to help me learn and become a better trader. AG Stock Picks is head and shoulders (pun intended) above any of the others! Clean, concise learning tools, alerts, and weekly picks to study on weekends. I've found my home."
C. F.
"I followed AG on FTMIG Discord and Twitter then took advantage of the $5 Premium Subscription trial offer. Best money ever spent! Bought KNR at 94c on daily alert and sold it today for $5!! Taking my family for a non glamorous local vacation next week as a result. Full time paying subscriber as of yesterday."
Igor o.
"The service so far has been great. Tons of information at your fingertips and AG is there to answer any questions. I am always learning and trying to de risk my trading and this group has been tons of help in just 2 weeks. The chart school is also a great addition with tons of info on Technical Analysis."
Grose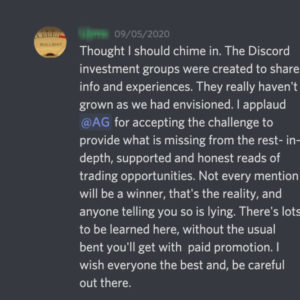 "The Discord investment groups were created to share info and experiences. They really haven't grown as we had envisioned. I applaud AG for accepting the challenge to provide what is missing from the rest- in-depth, supported and honest reads of trading opportunities. Not every mention will be a winner, that's the reality, and anyone telling you so is lying. There's lots to be learned here, without the usual bent you'll get with paid promotion. I wish everyone the best and, be careful out there."
C. J.
"I'm married, 3 kids, and figured it was about time to start learning about investing. Look, when you're starting out from scratch, trying to find recommendations is like parachuting into a city where you don't speak the language and everyone is trying to steal your wallet. It's impossible to know who to trust and I don't have the time or the patience to wade through the hype, jargon, pumping, bashing, and suspect motivations to try to find an actual quality stock. What drew me to AG was that the analysis he provided was objective, data-driven, and based on technical charts and fundamentals. AG discloses his positions and interests and is completely transparent with the rationale for his decisions, as well as his successes and failures. It's refreshing.
Personally, it's not just about finding someone who picks good stocks. I want to know what makes those picks good so I can learn and develop my own skills. And for someone like me, AG's rationale is as valuable as the individual picks.
Still, I wasn't grasping the terms I was seeing – inverted hammer candlestick pattern? It's like the nonsense words I make up to BS the kids. So after following AG on social media I decided to become a premium subscriber. I found myself part of welcoming and positive Discord community filled with resources, education materials, and deep dives into charts accompanied by clear explanations that make sense.
Overall, as a premium subscriber to AG Stock Picks I've found plenty of quality stock opportunities that fit my modest budget along with the support to learn the in-depth technical analysis that accompanies them."
Michael C., Ontario, Canada
"Out of all the investment services offered for Canadians, this is hands down the best one I have tried. AG provides good information and from what I have seen consistently knows when to buy and sell stocks based on the relative information at hand. "
JLP
"Just started. The information and diligence is worth every penny!..
I made ten grand this week off your suggestions!"
Karim
"Hey AG just wanted to say a huge "thank you", my portfolio has increased quite a bit this week alone since joining your twitch channel following your advice and calls. Feels great to finally win for once, keep doing the amazing job you are doing dude and can't wait to see what next week brings! Cheers"
N.
"As a newbie investor, I'm gaining SO much insight to investing including which companies and when to buy/sell. My portfolio is doing much better since I joined, thanks so much AG!"
I. M.
"As a new trader, who just spent my first month with AG, I have to say I have learnt so much. This discord has given me the confidence I need based on the amazing technical analysis provided by AG to make smart picks. Not only that, the speedy responses to questions is remarkable. Thank you!"
E. H.
"AG provides not only great Technical Analysis, but a very well rounded approach to being successful in the Canadian Markets as well. You will NOT find this sort of service/community anywhere else."
S. I. T.
"Subscribing to AG's premium discord is the best money I've spent as a new trader. The Canadian venture exchanges are a wild game, and AG knows the game very, very well.
As a noob, I can only google so much, and having AG in my corner has made me much more confident in my DD on companies, and choosing entries, exits, and holds based on good judgement instead of greed and FUD."
T. W. B.
"… I am a newbie here but turned $5k on VERY. The effort and work AG puts in is second to none and in a very short period of time I have come to have a lot of confidence in AG and this group of people."
Nobs
"The feedback, recommendations and daily/weekly picks are unbeatable. I subscribed to this group (discord chat) in November 2020; prior to joining the AG's discord channel, my portfolio was completely red, and I was down thousands. As a new trader I was making number of mistakes and it was significantly impacting my investments. Within 2 months, while following recommendations from AG and constantly learning from the sources within the group, I was able to turn my portfolio around and finally seeing greens. Best money I have ever spent."
Vinnie K.
"…I've been here for 2 weeks and I would be willing to pay more for the services now that I know what it entails."
Z.
"As an "investor" who has made many mistakes in the past and lost money. I have finally found somewhere that is full of insight, not only from AG but also the discussions in this discord! AG is always patient and somehow able to answer any questions we have. The membership has already been paid for and some thanks to the effort AG puts into this channel."
J.